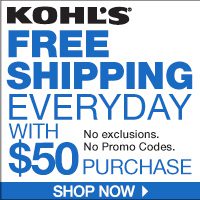 When you order products through the Kohl's website, you can get them shipped to you in one of many ways. You can get a standard shipping option that takes about three to six business days to ship your item. You may also choose a one or two-day shipping option if you need it quickly.
Can I Get Same-Day Shipping?
Same-day shipping is available depending on where you live. An order placed before 1pm local time can be sent to you around 8pm on the same day. Any order placed after 1pm will be delivered to you the next day.
This is a popular feature offered by Kohl's but it is not available in all places. You should check when shopping online to see if certain products are available for same-day shipping as it is not covered in all cases.
15% off orders of $100 Kohl's Promo Code
15% off orders of $100 Kohl's Promo Code
Kohl's Shipping Costs Can Vary
It costs less to get an order shipped when the higher the value is. Orders of $100 or more can take advantage of discounted deals, although the cost will vary based on how fast the expedited shipping option is.
One point for certain is that you can get free shipping on orders of $75 or more when you use the standard shipping option.  In fact, this option works for some of the more high-end products that you might find including tech-based items that are available.
Kohl's Shipping Cost Comparison Table
| Order Total | Standard (3-6 Days) | 2 Days | 1 Day |
| --- | --- | --- | --- |
| $0 – $74.99 | $8.95 | $19.95 | $29.95 |
| $75 – $99.99 | Free | $19.95 | $29.95 |
| $100 & up | Free | $9.95 | $19.95 |
| Gift Cards | Free | $9.95 | $14.95 |
Note: If you are a Kohl's MVC Card Holder there are times during the month, such as their credit events, where you can get free standard shipping.
How Much Do Large Items Cost to Ship?
You might have to pay some added costs or a surcharge for items that bulky. These include items that are very large in size and have a good amount of weight. Anything that could be very hard to carry or load can also cost extra to ship. Check the item carefully before ordering as some items might cost extra to send out. The product page for such an item in question should list details on any added costs that might be included when ordering.